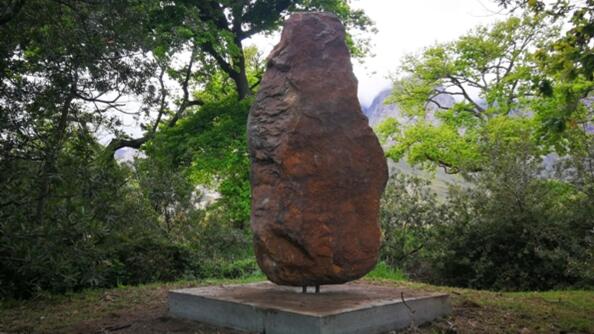 The Stellenbosch Outdoor Sculpture Trust (SOST), hosted its latest public art exhibition, located in beautiful outdoor settings by eight of the finest established and emerging land artists during the Stellenbosch Garden Week.
Hosted from Friday October 1, to Sunday October 10, the Poetic Land Art exhibition allowed visitors to follow a map and explore some of the most beautiful parts of the town.
From historical settings in the middedorp, to more rural locations beside landmark rivers, the Poetic exhibition was a feast for the senses. Visitors could read the poems which inspired the works at each site, in three languages, and engage with nature and art in a truly unique way.
The artists included masters of this movement Strijdom van der Merwe, Hannelie Coetzee, Gordon Froud, sibling duo Anni Snyman & PC Janse van Rensburg, and Andrew Hofmeyr, as well as exciting artists new to the genre Cow Mash, Paballo Majela and Sandile Rabede.
"Since 2012 SOST has been bringing public art to the streets of Stellenbosch for all to enjoy. We believe that access to art should be for the whole community and not only those who visit galleries and museums, or for the minority of learners who are lucky enough to have art at school.
"Public art fosters dialogue and debate, and inspires curiosity and imagination. It also contributes to critical thinking, where people who are exposed to art more often begin to recognise patterns and "connect the dots"; an essential part of problem solving," says Andi Norton, SOST Trustee and project director.
Land art is an exciting new discipline for the town. Exhibitions in the past have focused on public sculpture, and this was the first exhibition where artists were inspired by nature and where the artworks are site specific.
Land art is usually ephemeral by nature, but three of the artworks remain after the exhibition closed on Sunday October 10. Paballo Majela's installation on the Stellenbosch University campus will form part of the permanent Visual Redress project, the work by Hannelie Coetzee will remain on the Droomstroom art route alongside the Dwars River in Kylemore, and the installation by Sandile Radebe will be established as part of the gardens at Stellenbosch Academy of Design in Techno Park.
Curator of Poetic, Strijdom van der Merwe explains it best: "Land art is a movement or art form that has freed itself from the gallery space with the intent to include all the senses. It invites the viewer to experience it by walking through it, touching it, observing it and interacting with it within the space in which it is created.
"In most cases it is site specific and ephemeral, capturing a moment in nature that will linger in your mind long after the work has been dismantled. Its value lies in its psychological fulfillment more than its market value."
Dr Mike Mavura, SOST Trustee, lecturer and curator, continued: "Public art is something that Stellenbosch has become known for, and it contributes to visitor numbers and the economy. The Stellenbosch Triennale last year, hosted by SOST, also reimagined the town as an international centre for contemporary art from Africa. Bringing land art to the town is the perfect medium for the times we find ourselves in now, and visitors can enjoy the exhibition in a safe outdoor setting."