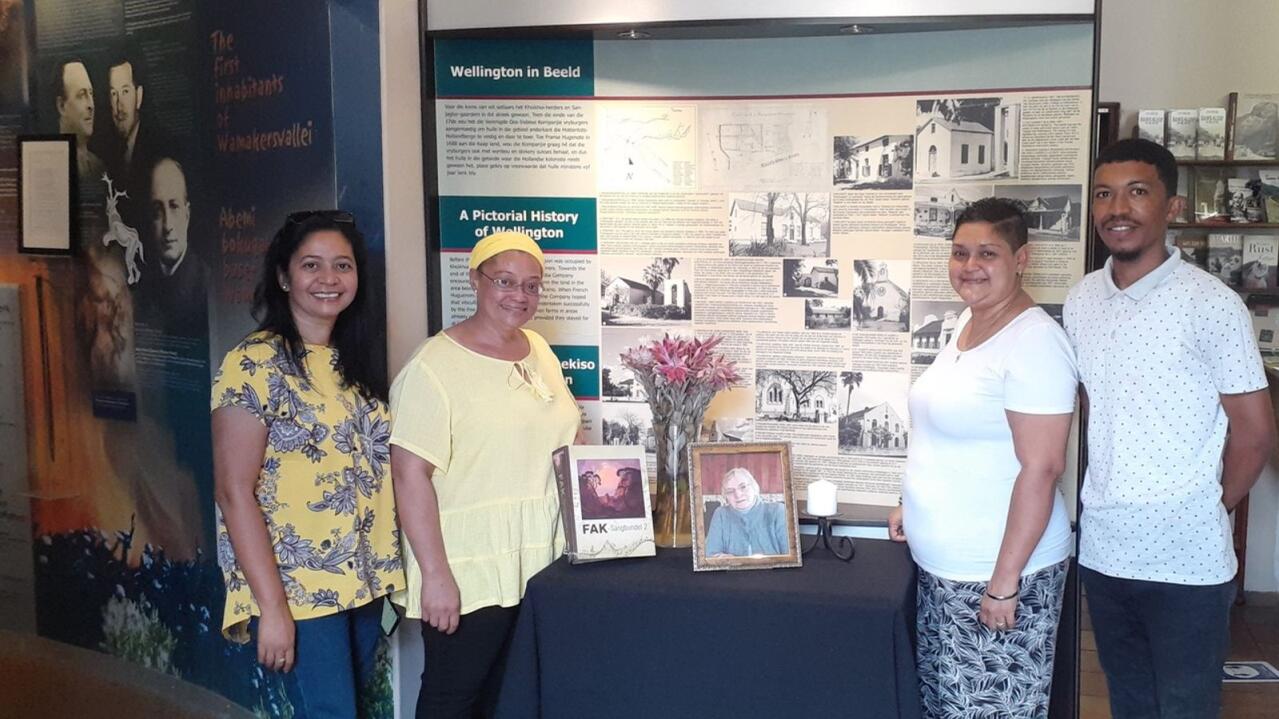 Christine Siebrits of Wellington's voice fell silent on Wednesday February 2 and the Federation of Afrikaans Cultural Societies (FAK) paid special homage to her earlier this month.
In a statement issued by the organisation she is described as an upstanding member of her community.
"Ms Siebrits was an excellent example of someone who was serving and visible in her community. She deeply understood the importance of cultural-historical preservation and worked diligently on this acre.
"Her helpful nature, persistent dedication and curiosity about especially the history and people of Wellington, but also beyond, made her a beloved and respected expert and great source of knowledge in the town," the statement acknowledged her expertise.
Elizma Smith, project organiser of FAK Cultural Networks in the Cape, says: "The FAK remembers her as a member of the FAK-Wellington Cultural Network, in which she was enthusiastically involved and made valuable contributions on the people and history of Wellington.
"She was also the great-granddaughter of the language pioneer CP Hoogenhout and chair of the Wellington Museum. "
As a special tribute to honour her memory, the FAK visited the Wellington Museum on Tuesday March 1.
"The staff speaks with great respect of Christine. Christine stopped by about three times a week and everyone was happy to come closer for a chat."
According to Ms Smith, the staff and Ms Siebrits then had a good time with coffee and a milk tart, which Ms Siebrits always brought with her.
Olivia le Cordeur, manager of the Wellington Museum, remembers Christine as a caring person who was genuinely interested in the staff and their children, who carried out matters she believed in, and was not discouraged by setbacks, and who was a young 81 -year-old who kept up with technology.
Ms Le Cordeur says that when she started working at the museum herself, she feared this "angry" retired schoolteacher, but that she got to know a humble, sincere and helpful person with whom she worked well for 13 years.
Before her sudden death, Ms Siebrits inquired about the FAK Songbook Volume II she wanted to purchase for the Wellington Museum.
"This songbook was donated to the Wellington Museum on Tuesday (March 2) as a sign of the FAK's great appreciation for the active role that Christine Siebrits played in heritage conservation," says Ms Smith.
In a previous recognition of her work and contribution to the community and society, the FAK's Inspiration Woman Award was awarded to Ms Siebrits and her sister, Daphne Hoogenhout on Saturday October 10, 2020, also the 45th anniversary of the Afrikaanse Taalmonument, at the grave of their great-grandfather, CP Hoogenhout, the language pioneer and member of the Society of Real Afrikaners.