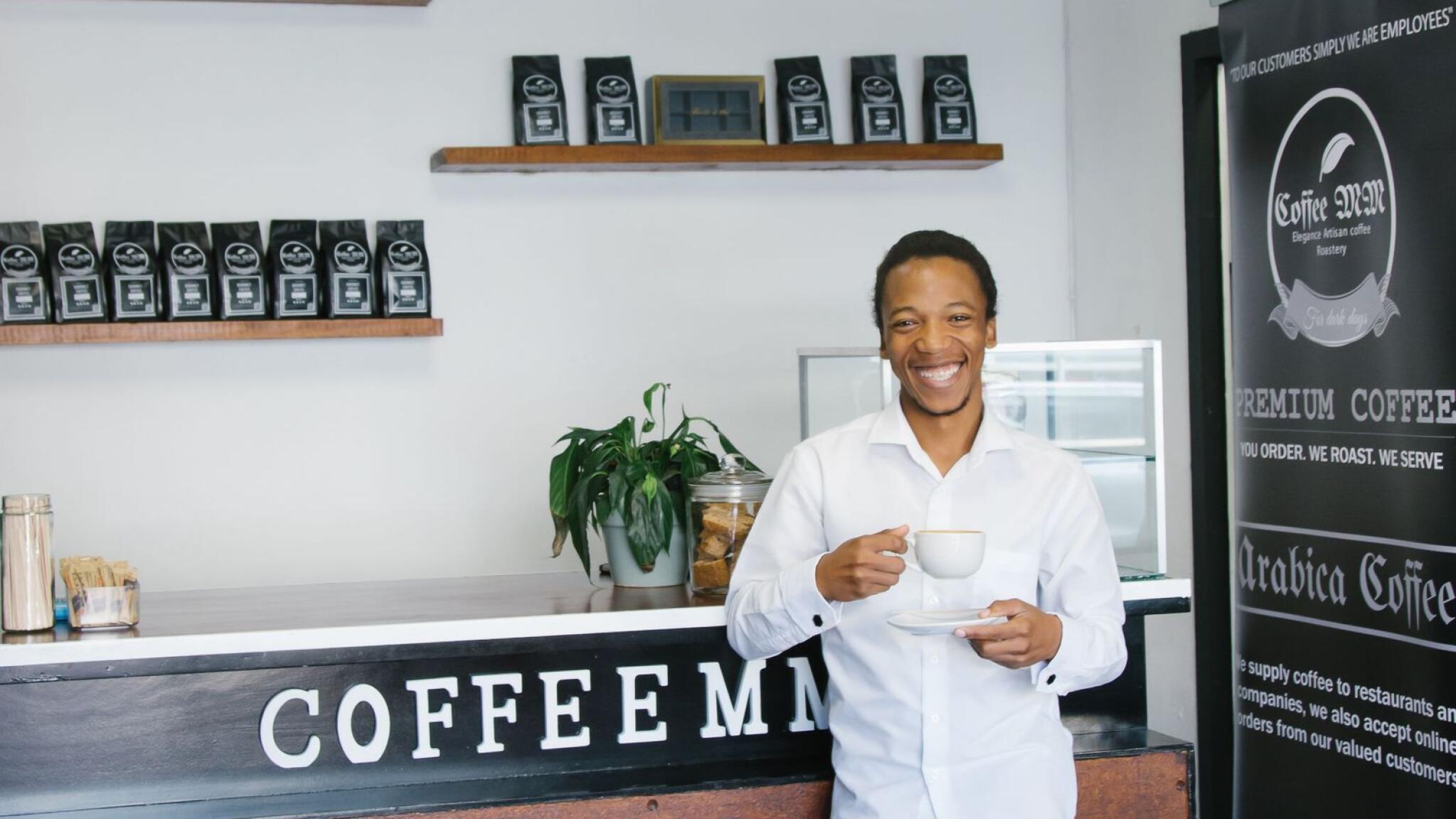 A local entrepreneur is one step closer to realising his dream of one day owning a coffee empire.
When Bolander last year (Wednesday August 25) reported on the young coffee roaster, Mhlengi Ngcobo, an energetic and passionate entrepreneur who opened his first location of his start-up, Coffee MM, at the Co-Create business hub in Stellenbosch, he expressed his dream to expand his business.
A year later, he is fortunate to see the realisation of this dream as he earlier this month, opened up another coffee shop in the heart of Somerset West CBD at Shop 4, 148 Main Road, Lionviham in the Twin Oaks centre.
His vision for the new store circles back to that of his original purpose as founder in launching his initial small business. "Our reason for expansion is to spread the word of hope using our brand, to create more jobs, support small scale coffee farmers and now, to serve more coffee lovers around Somerset West in a restful environment," Mr Ngcobo reveals.
He emphasises that one of the core objectives in running his coffee roastery remain his commitment to the advance and support the wellbeing of small coffee farmers. "Our vision is to empower small-scale farmers and serve the best coffee while doing so."
Mr Ngcobo, from Idas Valley, Stellenbosch's entrepreneurial acumen is not only locally recognised. Last year he was one of the winners in the 2021 Mail and Guardian's 200 Young South Africans in the business and entrepreneurship category.
Among equipping and fine-tuning his business skills with other small business training courses and programmes, Mr Ngcobo was also a participant and trainee of the Ranyaka Building Business Programme in Stellenbosch.
Marli Goussard, head of Ranyaka's Enterprise Development programme comments on Mr Ngcobo's success. "The Ranyaka Building Business Programme could not be prouder to have supported Mhlengi Ngcobo and CoffeeMM on this exciting business journey.
"Mhlengi was part of the RBB Programme in 2020/2021 through which he had exposure to a variety of business training and support, but most importantly, CoffeeMM gained access to centrally located business premises at the CoCreate Hub in Stellenbosch."
The hub is a formal trading space, where more than 40 small business owners are given the chance to sell their unique products and services.
Ranyaka acknowledged his entrepreneurial excellence in facilitating his fast expansion. "Mhlengi's product speaks for itself and will satisfy any coffee connoisseur. He really maximised every opportunity during his participation in the programme and we are not surprised that he managed to scale his business so quickly. Congratulations Mhlengi," Ms Goussard says.